AM25 Built-in Lithium Battery DC Tubular Motor
Product No.:202031310344
Model:AM25-1.2/30-ES-E
Size:Diameter 25mm
Input:DC7.4V
Loading Power:6.7W
Description:built-in receiver and battery
Application:roller blinds,electric roller shades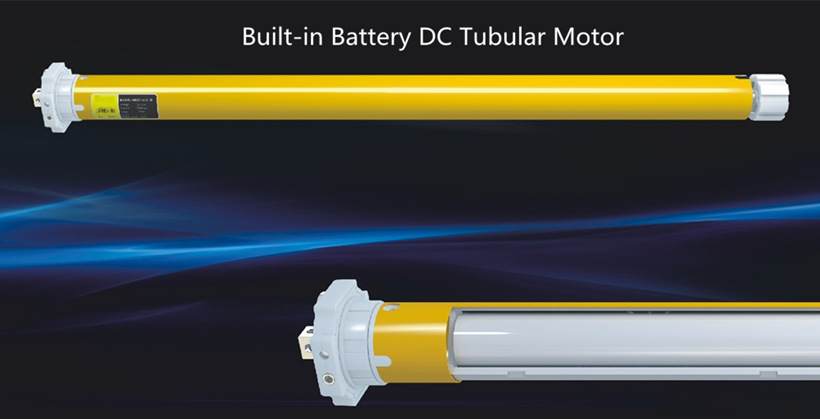 、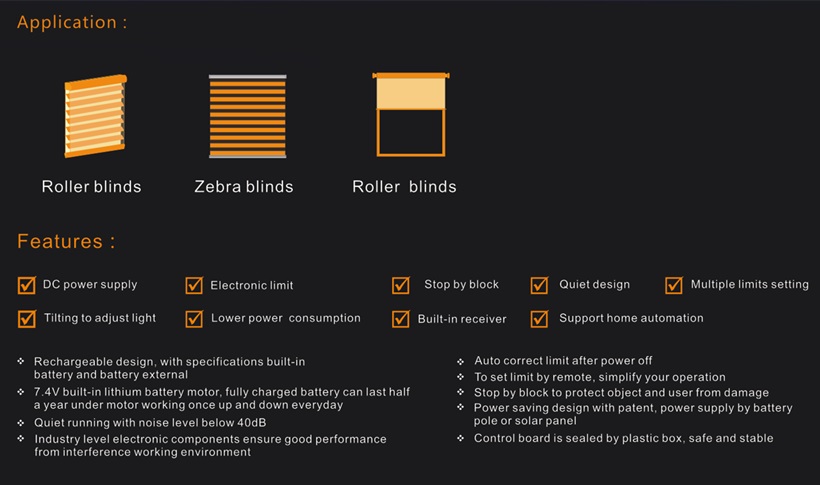 AM25-1.2/30-ES-E shade motor features a long life built-in lithium-ion battery. Say good bye to expensive external batteries. Lithium-ion battery technology is mature and has moved into motorized shades. This is now the default option for retrofit installations where wiring to a power source is not possible. The built-in lithium battery is expected to provide approximately 365 cycles of operation (depends on shade size) before needing a charge. That means you'll only need to plug in the optional external battery charger twice a year or so.
Note: The remote controls do not have individual buttons to command control of the intermediate positions. When you press the up or down button the shade will move to the next programmed stopping point. You can command the shade to bypass the intermediate stopping points by double pressing the Up or Down buttons with a 1 second pause between presses.
AM25-1.2/30-ES-E Li-Ion Roller Shade Motor Specifications
• No external power source required (Except for Charging)
• Built-in 7.4v 2200 mAh Rechargeable Lithium-ion Battery
• Torque: 1.2Nm
• Lift Capacity - Not Including Tube Weight
- 1.5" Tube: 16lb
• Motor Speed: 30 RPM
• Quiet Operation : 40dBa
• Soft Stop: Speed is reduced when the shade comes to a stop
• 6 Programmable Stops (4 Intermediate)
• Compatible with RF Control Technology (433.92 MHz)
• Audible Beep indicates when battery requires charging
• Attached Motor Charging Cable: 3.5"
• Attached Antenna: 6.5"
• Requirements for use
1. Charger 2. RF Remote 3. 1.5" Roller Shade Tube 4. 1.5" Tube Idler/End Plug 5. Brackets