Sectional garage door
Product No.:19515131421
Colour:customize
Description:motorized garage door
Application:residential ,entrance and garage
Sectional garage door is a modern high-technology mobile construction intended for mounting in small and medium-sized apertures (in width from 2000 to 5000 mm, in height from 2000 to 3000 mm).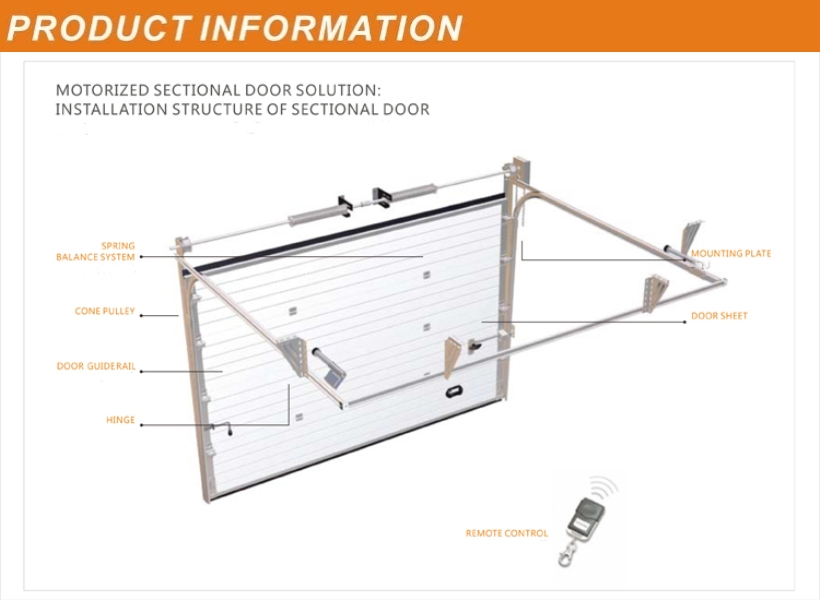 The base of its design is the leaf, which consists of horizontally located sections (sandwich panels), joint with each other by means of special hinges. Sandwich panels are produced on European production automated line and consist of two layers of steel leafs with polyurethane foam filling. Steel galvanized leafs may be coloured or laminated with the woodimitation layer, which is not exposed to temperature effect and ultraviolet radiation. Depending on design type the width of steel leaf varies from 0.4 to 0.8 mm.
During opening the door leaf is lifting by means of roll system along the lintel to ceiling using the tracks with full clearing of the aperture. Thereby the garage space and territory around may be considerably economized, and you get more space for maneuver during the parking of your car.
The door design possesses some unique qualities in comparison with the analogs. Due to the sandwich panels and the seal system garage sectional door is hermetic and is provided with heat insulating and soundproof qualities. It is calculated as a long-lived item (minimum for 10 years) and is equipped with operation security system; it is also notable for high level of ease of operation.